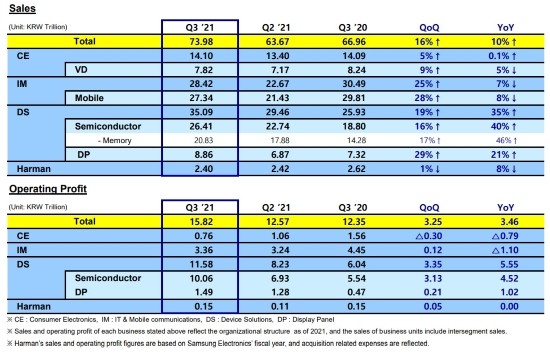 - Record quarterly revenue of KRW 73.98 trillion, operating profit at KRW 15.82 trillion
Yun Sang-ho
crow@ddaily.co.kr
[Digital Daily]
Seoul, Korea, October 28, 2021- Samsung Electronics today reported financial results for the third quarter ended September 30, 2021.
Total consolidated revenue was a quarterly record of KRW 73.98 trillion, a 10% increase from a year earlier, which was the previous high. Operating profit increased 26% from the previous quarter to KRW 15.82 trillion, the second-highest ever, as favorable market conditions continued in the memory market while the foundry and display businesses achieved robust sales. The finished product businesses also posted solid performances.
The Memory Business saw a significant improvement in earnings with record quarterly bit shipment, as well as the second-highest revenue for DRAM, and the Foundry Business's results improved due to strong sales to global customers. For the Display Panel Business, earnings rose as major smartphone customers launched new products.
The Mobile Communications Business saw a sequential improvement in earnings on the back of strong demand for new foldable models and low- to mid-range smartphones as well as growth from tablets and wearables. The Networks Business expanded its global business, including in North America and Japan, and continued to grow 5G network installations in the domestic market.
The Consumer Electronics Division saw strong expansion of the premium TV and Bespoke product lineup, but profitability declined due to rising raw materials and logistics costs.
The strength in most currencies against the Korean won, with the US dollar in particular, had a positive impact of approximately KRW 800 billion on operating profit compared to the previous quarter.
The Company's capital expenditures in the third quarter reached KRW 10.2 trillion, including KRW 9.1 trillion spent on semiconductors and KRW 0.7 trillion on displays. Total capital expenditures so far in 2021 were KRW 33.5 trillion, including KRW 30 trillion for semiconductors and KRW 2.1 trillion for displays.
The Semiconductor businesses posted KRW 26.41 trillion in consolidated revenue and KRW 10.06 trillion in operating profit in the third quarter.
For the Memory Business, the overall price situation remained favorable and the Company set a new record for quarterly bit shipment and the second-highest revenue for DRAM, backed in particular by significant growth in server sales.
For DRAM, server demand continued to grow as adoption of a new, high-core CPU which was released in the first half of the year. PC demand from end-users has also been robust due to changes such as workplaces opting for hybrid work patterns, and mobile demand recovery has become more visible thanks to releases of new products by major manufacturers and the base effect of the previous quarter.
Despite a resurgence of COVID-19 in major production countries and component supply issues that led to disruptions in set builds, Samsung actively responded to DRAM demand by flexibly operating its product mix.
For NAND, server SSDs demand recovered along with increased investments by major server customers, and demand from data centers for high-capacity products was strong based on the high-capacity trend spurred by new CPU adoptions. Mobile demand has been solid due to the launch of new models.
Looking to the fourth quarter for DRAM, the fundamental demand for server is expected to stay strong thanks to the new CPU adoption and expansion of datacenter investments. However, Samsung will keep monitoring impacts of the component supply issues on set builds.
For Mobile, manufacturers are likely to continue to launch new 5G models but there are chances that growth of purchasing demand could be limited due to inventory adjustments at some customers along with impacts of supply chain issues. For PC, Set build growth to stay similar compared to the last quarter.
As for NAND, server SSD demand is expected to be robust as business activities normalize and continued growth in enterprise IT budgets and the high-capacity trend for server SSD.
For the outlook next year, while macro uncertainties, such as the timing of mitigating component supply issues, influences of "Living with COVID-19" policies amid increasing vaccination rates, and raw material pricing issues, make it difficult to provide specific guidance, server and PC demand is expected to be robust with the trend toward high-capacity following the expanding new CPU adoption and continued growth of enterprise IT investments. For Mobile, the Company expect shipment growth and the high capacity trend to continue with the increase in low-end to mid-range 5G models, and also as manufacturers launch products with new form factors.
Samsung will continue to expand the portion of 15-nm DRAM and 128 layer V-NAND, proactively address the server market where demand is likely to grow thanks to new adoptions of DDR5 with rising penetration of a high core CPU and also preemptively secure demand for NAND solution products.
Moreover, while expanding mass production of 14-nm DRAM and 176 layer V-NAND, the Company will continue to strengthen its market competitiveness via cost reductions through next-generation processes and products.
The System LSI Business saw its earnings improve in the third quarter thanks to increased demand for SoCs/DDIs as major mobile customers launched new products. In the third quarter, the Company launched the industry's first 200-megapixel image sensor for mobile phones and the industry's smallest dual pixel image sensor.
In the fourth quarter, the Company expects earnings to continue to increase due to expanded supply of SoCs and related products for launches of new 5G smartphones in 2022.
The System LSI Business will improve its performance next year by expanding supply of 5G SoC products for the volume zone as well as for new flagship products that feature enhanced GPU performance.
The Foundry Business saw its earnings improve sequentially, posting record revenue for the quarter as supply of key advanced process products increased. The Company also secured a stable revenue base by winning new orders for advanced processes from global customers.
In the fourth quarter, demand for advanced and mature processes look to remain strong, and the Company expects to post a new quarterly record for revenue, increasing more than 10% from the third quarter. The Company plans to continue its technological leadership by completing the design of first-generation 3-nm products based on GAA and developing second-generation 3-nm GAA process.
In 2022, the foundry market is expected to remain tight due to high silicon consumption for 5G in mobile and strong GPU-led demand for HPCs. The Company plans to improve earnings significantly by expanding supply of advanced processes of sub 5-nm process as well as increasing sales to global customers and normalizing prices for sustainable future investment.
The Display Panel Business posted KRW 8.86 trillion in consolidated revenue and KRW 1.49 trillion in operating profit for the third quarter. Overall display earnings improved compared to the previous quarter primarily due to the strong sales of small to mid-sized OLED panels despite weak performance in the large display business.
Mobile display earnings rose amid favorable seasonal effects, driven by demand for newly launched products from major smartphone customers. Especially, sales expansion for high-end products including foldable phones contributed to highest-ever third quarter profit. However, the large display business continued to post losses mainly due to price declines in LCD panels.
Looking ahead to the fourth quarter, for mobile displays, Samsung forecasts strong demand for new smartphones to continue and sales for laptops and gaming devices to grow during the holiday season. Thus, it expects the earnings to remain solid for the fourth quarter. In the large display business, as the Company is all set to begin mass production of QD displays, it will focus on the successful introduction of its first QD products to the market.
In 2022, a favorable environment for the OLED business is expected to continue, thanks to the recovery of smartphone market demand and the higher adoption of 5G phones. Moreover, sales of applications such as laptops and tablets are forecast to grow in earnest. Samsung will strive to turn such momentum into a new growth engine for the Company. Also, amid concerns over supply of some components such as DDIs, the Company will closely monitor its supply chain and take preemptive actions to potential risks to ensure uninterrupted product delivery.
For the large displays, Samsung will complete the business reorganization from LCD to QD displays as planned and focus on securing leadership in the premium TV segment with QD displays.
The IT & Mobile Communications Division posted KRW 28.42 trillion in consolidated revenue and KRW 3.36 trillion in operating profit for the third quarter.
Overall market demand increased from the previous quarter due to alleviating influences of COVID-19. Despite a component supply constraints across the industry, the Mobile Communications Business saw revenue increase from the second quarter. Smartphone sales increased compared to the previous quarter thanks to strong sales of flagship models including Galaxy Z Fold3 and Galaxy Z Flip3, as well as enhanced mass-market lineup. Device Ecosystem products such as wearables have also continued material growth. While increased marketing investments for the foldable category had some effect on profitability, the Company secured solid double-digit operating profit margin.
Looking ahead to the fourth quarter, market demand is forecast to increase quarter-on-quarter due to strong year-end seasonality, however, uncertainties over component supply are likely to persist. The Company will strive to maintain a double-digit operating profit margin by further expanding premium smartphone sales with the Galaxy Z Flip3 Bespoke Edition while also continuing sales momentum of Galaxy S series. At the same time, the Company will pro-actively target replacement demand with competitive mass-market 5G lineup, and increase sales of Device Ecosystem products such as wearables, PCs and tablets.
In 2022, amid uncertainties over COVID-19, the smartphone and wearable markets are expected to continue growing. The Mobile Communications Business aims to reinforce its leadership in the premium segment by driving the mainstreaming of the foldable category providing innovative technology and differentiated experience such as Galaxy Z Flip3 Bespoke Edition. With these efforts, the Company will strive to achieve solid performance by strengthening mass-market 5G lineup and Device Ecosystem business.
For the mid-to-long term future growth, the Company will continue its efforts to develop advanced technologies and collaborate with leading global companies.
As for the Networks Business, the Company expanded its business overseas including North America and Japan, and actively responded to 5G expansion in South Korea. The Company will continue with its network rollouts in Korea while exploring new business opportunities overseas including North America, Japan, South West Asia, and Europe. By improving the in-house 5G chip and advancing 5G virtualization solutions, the Company will strive to strengthen its product competitiveness and solidify foundations for growth.
The Consumer Electronics Division, comprised of the Visual Display and Digital Appliances businesses, recorded KRW 14.10 trillion in consolidated revenue and KRW 0.76 trillion in operating profit in the third quarter.
Despite strong sales of its premium TVs and Bespoke home appliance products, the Company recorded lower profits both quarter-on-quarter and year-on-year, due to a significant rise in material and logistics costs.
Looking ahead to the fourth quarter, the Company expects higher demand for TVs quarter-on-quarter due to year-end seasonality. However, year-on-year demand is expected to decrease as more regions adopt "Living with COVID-19" policies and pent-up demand effects continue to fade. Samsung plans to respond by focusing on premium product sales, with optimized year-end promotions for both its offline and online channels.
In 2022, the Company expects the growth trend to continue to slow, as consumers increasingly spend less time at home. However, a heightened interest in customized, premium lifestyle products is expected to remain, which the Company plans to actively address. Further product mix enhancement, global market expansion, retail and marketing optimization, and strengthened SCM capabilities are key elements of Samsung's plan.